MaxxiLine Helium Tanks are: Small, Portable, Lightweight, Easy-to-use and Recyclable.
MaxxiLine Helium Tanks are perfect for birthdays, graduations, weddings, school events, tailgates, fundraisers and more.
MaxxiLine Helium Tanks gives you the convenience of filling latex or foil/mylar balloons anytime, anywhere to instantly transform an everyday space into a celebration.
MaxxiLine gas bottles are being filled with 100% Helium and NOT with mixture of Helium and Air as many similar products available on the market.
Each bottle come with our "Push-To-Fill" Helium Balloon Filler Nozzle that allows you to fill Latex and Foil balloons in a snap.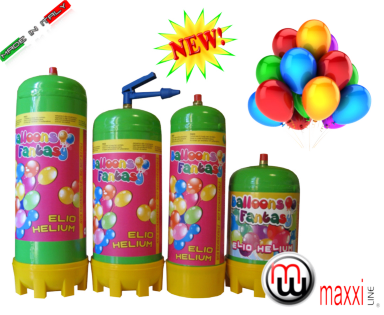 Four sizes for your convenience:
1l Helium Tank (0,11m3 110 Litre Helium Compressed)
1.2l Helium Tank (0,12m3 120 Litre Helium Compressed)
1.8l Helium Tank (0,16m3 160 Litre Helium Compressed)
2.2l Helium Tank (0,22m3 220 Litre Helium Compressed)

MaxxiLine Helium Non-Refillable (Disposable) cylinders are designed, individually manufactured, certified and tested in according to in total conformity with requirements of the UNI EN ISO 11118:2015
Are you looking for Helium for balloons?
We offer a wide range of disposable helium cylinders. MaxxiLine disposable helium cylinders are the ideal option for small one-off events. MaxxiLine helium cylinders are completely studied, designed and made in Italy. MaxxiLine helium cylinders meet or exceed industry regulations for quality and safety. Our company is committed to offering optimum quality/price ratio and is constantly striving to achieve customer satisfaction.
Learn how to easily use MaxxiLine Helium Tank to inflate balloons
MaxxiLine Helium Tanks
MaxxiLine Helium tanks come in several sizes depending on the quantity of balloons you plan on filling. MaxxiLine Disposable Cylinders are suitable for all small to medium sized events. MaxxiLine disposable Helium tanks are Small, Portable, Lightweight and Disposable. They come with an easy-to-use nozzle. The MaxxiLine 2.2l helium tank can fill approximately (30) - 9' latex balloons. The number of latex balloons you can inflate depends on the size you choose to create - larger sizes yield fewer filled balloons. MaxxiLine Helium tanks are ideal for for school carnivals, birthday parties, holiday picnics, and back yard barbecues; also for outdoor wedding receptions using balloon bouquets as decorations.
---
---
The Push-To-Fill Helium Balloon Filler Nozzle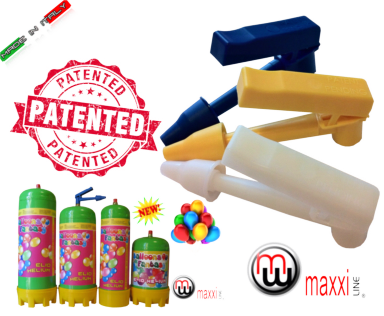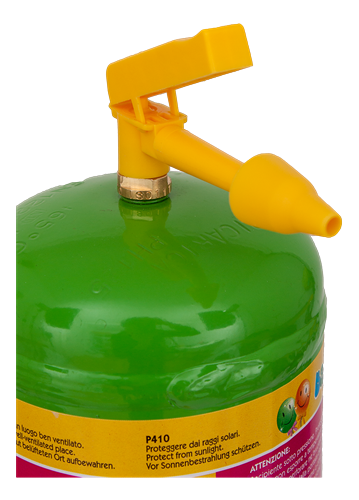 The Push-To-Fill Helium Balloon Filler Nozzle allows you to fill Latex and Foil balloon balloons in seconds and don't need to waste you fun time. It's so easy that it almost appears magical. Filling Instruction Guide: 1.Unscrew the protective cap from the cylinder valve 2.Screw the filling nozzle gently into the cylinder valve by hand up to abutting against the valve 3.Place the balloon neck over the filling nozzle making sure there is a snug fit so no helium can escape. 4.Hold the balloon neck firmly on the filling nozzle and gently press the lever down to release the helium. Release the lever on the nozzle to stop inflation and remove the balloon, pinching the neck closed so no helium can escape. 5. When you have finished inflating balloons, unscrew the filling nozzle from the cylinder valve and screw again the protective cap. We recommend using a balloon sizer for latex balloons to ensure you do not over-inflate your balloons. For foil balloons inflate until the balloon is slightly firm. Foil balloons are self-sealing so there is no need for tying.
Where to Buy
MaxxiLine Helium tanks are available in the major party goods stores worldwide. If you do not have a stockist local to you, we are still able to offer a courier delivery service on all Helium cylinder sizes. Simply send your enquiry by e-mail or call us on +39 339 5456609 and we can advise you on all the costs involved.
Contact Us
If you are interested in selling MaxxiLine products, contact our Sales Team to learn more about our full product line and how to Become a Distributor.
Sales: +39 0522 272630

Hot Line (24/7): +39 339 5456609

Skype: maxxiline
Email: info@maxxiline.com

---
Frequently Asked Questions | Clik Here to Download Flyer | Clik Here to Download 1.2l Helium Tank Flyer
---